We have collected over 140,000 kg of river waste since first deploying our river plastic traps on June 16th, 2020. As far as we were concerned, this is a great start – but it's just the beginning.
We are achieving many of our impact goals, and will continue to do so, but some of the impacts I am most proud of, are those that won't be on the headlines and are difficult to measure. I know we will have a positive impact on the waste behaviors of the communities we work in, and that we will prevent and remove large amounts of plastic and other wastes from ending up in oceans or landfills, but it is the impact on the individual lives that will truly leave their mark.
From the beginning we always wanted to be people focused. In fact, in one government meeting a very high-level official said that they had received numerous proposals for plastic waste collection and reduction, but that we were the first ones that focused on how we could support the local community. Other organizations were not focused on creating opportunities for local waste pickers and disadvantaged workers.
I also wanted to change the perception of trash pickers in the communities we work in. I wanted to show them as heroes, willing to do the work that others were not. I make sure that they are a part of everything we do, and when we begin our outreach, I also want them to speak to the communities in their own words, so they are seen as leaders of change. This will also help them build their confidence and skills so that they will have better opportunities in the future.
We have provided full or part-time work for 14 people in the community, but this impact cannot be counted in numbers. Most of our staff have limited education and are shy. They do a very difficult job every day, without complaint. They do it in the rainy monsoon season, and they do it in 30-35 degree sun (86-95F). They encounter every type of waste you can imagine, and they do it with pride and a smile. People come for a tour and are exhausted in less than an hour of helping.
When we interviewed our staff about their job and how they felt about it, every one of them stated it was a difficult job, but they are proud to do it. They talked about how their family was proud of them as well, and that working for the Foundation has provided stability for their families. One employee K. Num who is in his 50's told me one day, "I've never been able to keep a job for very long before, nothing would last more than a few months. This is the best job I've had, and I am very happy here." Statements like these are a true measure of impact.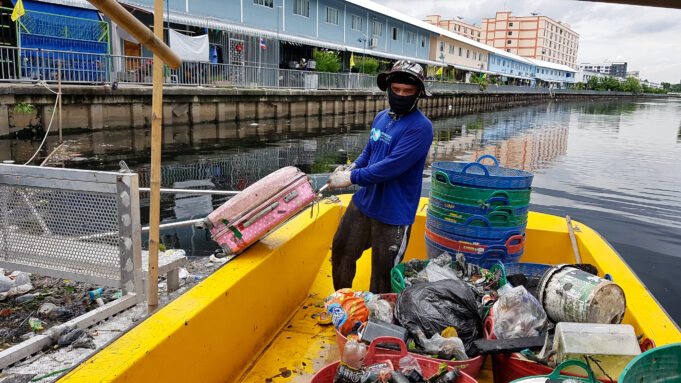 Then there is K. Sam, the retired community leader. He was stressed out and unhappy driving a taxi to help his family. Despite this, he kept showing up and volunteering his time to us. He was so committed to helping us succeed, I had to have him join us full time. He quit his taxi job and is dedicated to making our project a success. Working with us also allows him to follow his other passion of coaching kids' soccer. His family has lived on the canal for 3 generations and he remembers decades ago when they used to brush their teeth and drink from the canal. In his lifetime he wants to see the canal return to what it was in his childhood. K. Sam has told us that many groups came and went before us, trying to make an impact. He said they would get 30-50kg a day and eventually all failed. He is incredibly proud to be part of the TerraCycle Thai Foundation and believes we can return the canal to its natural state. K. Sam proudly leads our boat team, is always smiling, and helps us collect over 1,000-2,500 kgs a day!
2021 will see us continue to grow as a team, and as an organization. We will continue to find innovative ways to recycle difficult materials, keep our team strong and focused, and find a solution for every recycling challenge on our journey. Our continued success is a direct result of our team, as well as the many, many, people, partners, sponsors, and organizations that have helped us, and share our vision for a future that includes plastic free Canals, Rivers, and Oceans.
James Scott
Executive Director, TerraCycle Thai Foundation