This post is also available in: Español (Spanish)
A year ago I was ecstatic with the news of being recipients of the Benioff Ocean Initiative and The Coca-Cola Foundation's grant for piloting a system to deter plastic pollution from oceans. Our proposal, composed of a trash entrapment system, biophysical and socio-economic research, use of artificial intelligence to identify garbage and work with communities, would provide insight and inspiration for many other rivers in Panama and the world. By this time, in October 2020, I expected our water wheel powered device to be in the Matías Hernández River and our work with communities and researchers well underway.
However, the unprecedented COVID pandemic forced a different timeline for our plans and brought about many silver linings. The Panamanian government declared in March one of the most rigid and long quarantines in the world, allowing us to leave our homes for two hours at a time, every other day, for a maximum of six hours a week, according to gender and the last digit of our personal IDs. Stores, schools, public areas, and all businesses were closed. First struck by uncertainty and fear, evolving to anxiety, we had to adapt and reinvent our plans.
We have experienced different impacts from the mobility and quarantine restrictions. Public offices closed as we were preparing to submit documentation for the permits needed to install our river plastic collection device. This period gave us time to reconsider operational aspects of the project, and as a result, and with the help of local urban architects, we have developed a new, better-integrated, visually attractive engineering and operational design. This optimized design complements the Baltimore Trash Wheel-inspired device design created by our partners Clearwater Mills.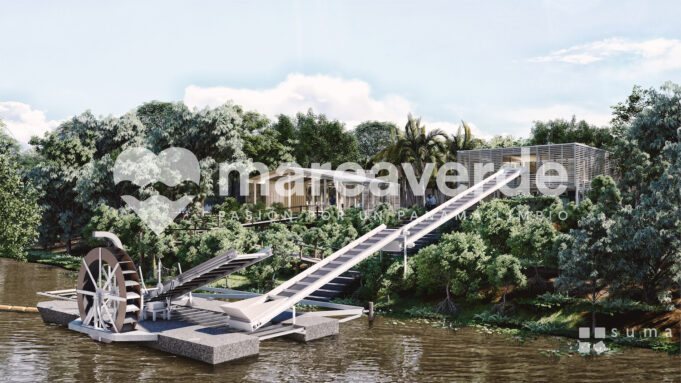 Once the device is on the water, the project will be enriched by the scientific information we can learn from it. Research scientists from the Technological University of Panama will work to characterize the Matías Hernández River across time and space, which includes water level fluctuation and physical variables; identifying the location of sources and sinks of trash in sites close to the river and river beds using drones; and microplastics categorization in water and sediment. Researchers from University of Oregon and University of Miami are studying social and human issues including changes in behavior, awareness about waste generation, disposal, and policymaking. Our partner Wisy, a startup based in San Francisco, California, is adapting its existing image recognition technology for the consumer-packaged goods industry to characterize plastic waste in the Matías Hernández River. By enhancing this technology, we will be able to recognize products at the end of their life cycle and quantify the waste impact on the environment.
The social component of this project has also been heavily impacted by the pandemic, given that the communities in the mid- and upper-Matías Hernández River watershed were considered COVID-19 hotspots, as well as of the most affected by unemployment and violence. Four of our initial twenty-five of two hundred program participants passed away due to COVID complications. As in-person workshops and activities have been banned, we have had to limit our communication plans and the number of people we had hoped to work with. The gender and technology gap is greater than expected in these communities, with many needing to share their cell phone, typically the only device they own, with their children for their online classes.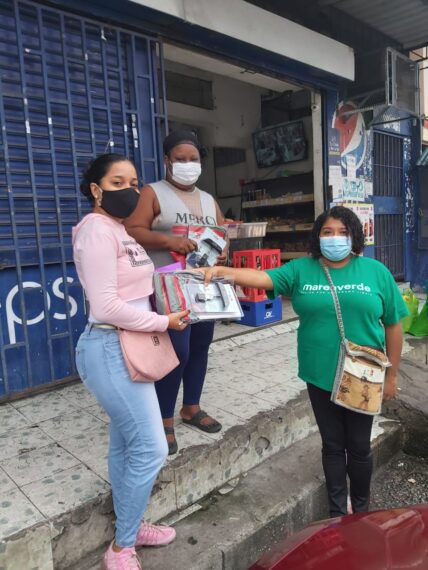 To address the limited access to communication platforms and data, we received a donation of cellular data sim cards from Digicel, as well as free virtual training sessions from Microsoft to teach our community leaders how to use the Teams platform. The project participants are slowly adapting to the virtual environment, and I feel encouraged by their willingness to improve their knowledge and skillset.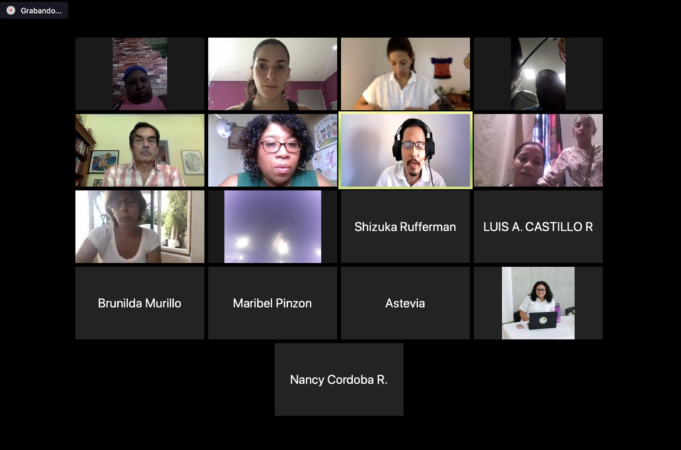 While COVID-19 presented a more complicated and difficult path to implementing our plans of capturing plastics and engaging the community, it has also provided us with an opportunity that we cannot ignore. It has opened a door for us to learn, to reinvent our methodologies, and to be creative in the ways we carry out our project's activities. As the lockdown measures have gradually, albeit not coherently, been made more flexible since September, we look towards putting these lessons learned into practice.
At Marea Verde, we believe in Howard Zinn's quote: "Small acts, multiplied by millions of people, can transform the world."
Will you help transform our world? Together we can make a big difference!