In January 2021, WILDCOAST installed a plastic retention system in Los Laureles Canyon, a tributary of the Tijuana River on the US-Mexico border, to stop debris from reaching the Pacific Ocean. To collect, separate, and process the debris for repurposing and recycling, WILDCOAST hired a local team to oversee the operation.

What WILDCOAST did not expect was the level of commitment this team would bring to the work. These individuals have worked tirelessly to process the debris caught in the trash boom and ensure it is reused or recycled to the fullest extent possible. Their passion for the work is inspiring.

We are proud to introduce Junior and Juan, two members of the local team that have been managing the trash boom sorting process.
JUNIOR

Junior is originally from the state of San Luis Potosi but has lived in Tijuana for two years. He currently lives in Los Laureles and has been a local member of the WILDCOAST team for almost a year. "I was surprised and glad that there was work right here in Los Laureles. It was very convenient, although I hated the job at first. I felt disgusted when picking up the trash, but I liked having a regular salary. Then I got used to it and eventually enjoyed going to work because of my teammates. I feel like they accept me as I am, and they respect and care about me. That is certainly a new feeling for me," Junior explained.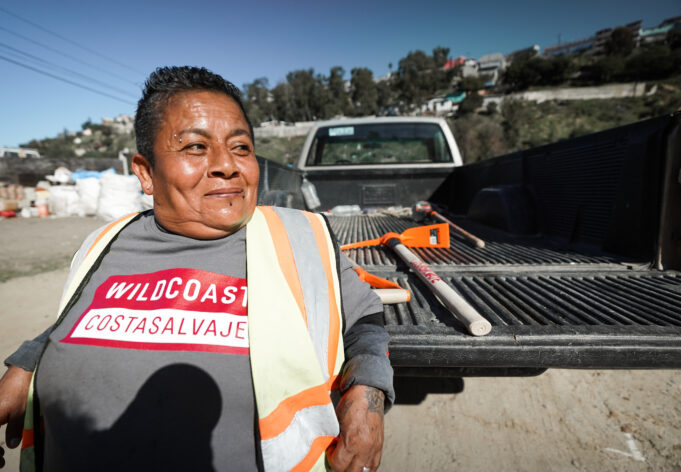 "I'm learning a lot about plastic and its alternative uses. I enjoy learning. I'm also an artist and Fay asked me to paint a mural in the cement basin (desarenador). I am very excited about this opportunity," he says.

Junior has faced many challenges in his life, but since working with WILDCOAST he has become much happier. He no longer feels like he is hiding in the shadows; he now feels comfortable to talk and smile more than ever. He says he is grateful for the opportunities and support WILDCOAST has afforded him.
JUAN

Every morning, Juan Benitez Castañeda drives 15 minutes to one of the poorest areas of the city of Tijuana, Baja California to work at the trash boom. "I love this job not only because it stops the debris from entering the Tijuana River and then polluting the beautiful Pacific Ocean, but also because of what we are teaching the community of Los Laureles. We are empowering its leaders to act. It is so important to teach people that they can improve their own quality of life because in reality, no one else will do it for them."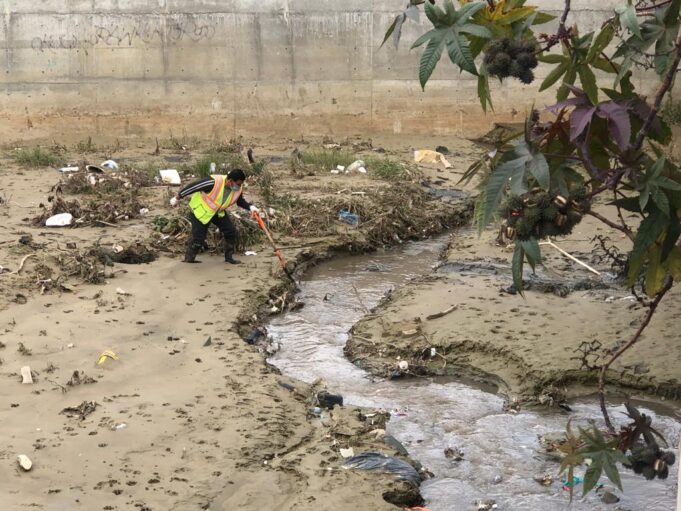 Juan finished high school and attended college for two years, although he was unable to finish his studies. He has had many different jobs including working as a landscaper and in agriculture in the United States. He emphasizes that he loves plants, animals, and the ocean.

"He takes more and more responsibilities every day," explains Rosario Norzagaray, WILDCOAST Border Manager. "When he finishes the job at the trash boom he goes to the park WILDCOAST built, to check that nothing is broken and to pick up trash if needed." Juan leads by example.

Juan says he loves this job because "it is obvious here how you benefit the community as well as the planet. This job gives me real satisfaction and a sense of accomplishment. I feel that we really have an impact here and are changing the community."
Rosario, Juan, Junior and the rest of the team are inspiring the community to stop waiting for a miracle, or for the government to do something to improve the quality of life for the residents of Los Laureles. They are teaching the community to organize and do it themselves. I'm in awe of the Tijuana team. They are ready to face reality head on and are very innovative, and that is what you need in order to solve Tijuana's toughest pollution problem. They are my superheroes.